I took the opportunity to get some of my comics graded. Being in Australia, the practicalities of getting this done by CGC make it a time-consuming effort. Good thing that Australia has our own grading company with Halo Certification in Queensland.
I sent my books to them via Express Post, well packaged with cardboard to keep them flat. A day later I received an email from Halo with the initial grade scores and the option to let them press it to bump up the grade by a point (1.0). Doesn't sound like a lot but if you're going to get these sealed in plastic then you might as well make them look their best. TIP: Pressing can only do so much, so don't expect a miraculous near-mint transformation!
A few weeks later I received another email with some photos of the slabbed books and when I should expect them delivered. They came as promised via Express Post in safe packaging (a decent-sized box for only two comics).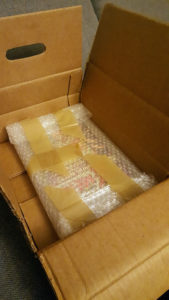 And here are the final slabbed books. The plastic is hard and clear. Very solid. Looks great and makes the comics very presentable.
I'm happy with Halo's service and would use them again. That said, it is somewhat expensive ($55 per book, with an optional $25 to press), so I would only recommend doing it for comics that are worth at least that much. "Worth" being either monetary or sentimental value – maybe I should get A Question of Promise #1 done for fun?