Due to a termite problem, I am currently in the process of replacing my damaged comics. As most of my stuff is from the 1990's, I've had to fall back on buying from overseas, thanks to the wonders of the internet. Thus, here is a review of buying comics in Australia from U.S. websites My Comic Shop and Midtown Comics.
Firstly, both My Comic Shop and Midtown Comics are easy to browse, have good search functionality, and there's lots of cover art so no problems in finding what you want. Likewise, prices are comparable and reasonable. You'll find stuff cheaper on one site and vice versa. My orders went through without issue via Paypal and both took a few days to process before sent. Weirdly, both orders had a book removed; though only Midtown told me why (it was no longer available – what are the odds of two people buying a copy of Deathblow at the same time?!) They refunded the cost of that book immediately. It took about two weeks to get here and both came at the same time even though via different companies (UPS and USPS – not sure what the difference is).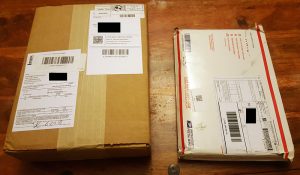 The left package is My Comic Shop and the right is Midtown. Immediately you can see that the packaging is different, with a box versus an envelope. The number of comics per order was roughly the same. My Comic Shop wins here with the box, looking much more safe and sturdy. Shipping cost was also cheaper than Midtown.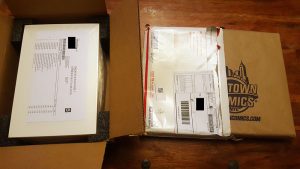 Opening the packages, My Comic Shop wins again. The comics are wrapped up in plastic while Midtown has a paper bag. Clearly, Midtown has me worried. Imagine if the package had been left in the rain. The envelope and paper bag aren't going to offer much protection.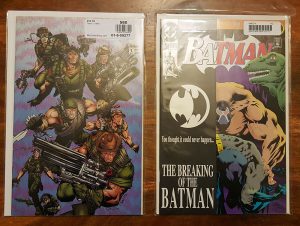 Let's look at the comics themselves. All books came bagged and boarded, so no problem there. Most had a sticker on them with the comic name, number and grading. Bag and boards look to be silver-age size which means the books can slide a little but nothing to be concerned about. Between the two, Midtown had the better bags. They use these "peel and stick" type that has the adhesive on the back of the bag rather than the flap. I know I've had times where I've opened a bag, pulled the comic out only to have the tape on the flap stick itself to the comic cover! This won't happen with these peel and stick bags. So, Midtown wins here, BUT the bags aren't sealed. They're open, ready for you to peel and seal yourself. This is a nice idea but going back to the rain thing I mentioned before – if the envelope and the paper bag doesn't protect you, these open bags won't either. I would have much preferred Midtown to seal the bags to give them some basic protection.
All in all, two good experiences here with ordering from Australia. My orders came in a timely manner and in good condition. Taking the above into account, I would recommend My Comic Shop over Midtown; though would be happy to order from the latter again if it had things I wanted.